For many of our products, customers can add their personal touch to the item with our personalized laser engraving.
Using our optimized Shopify product page, eligible products will allow the customer to enter a personalized message for an upsell fee.
We also offer custom name Necklace products, that allow the buyer to customize the product to a specific name or word.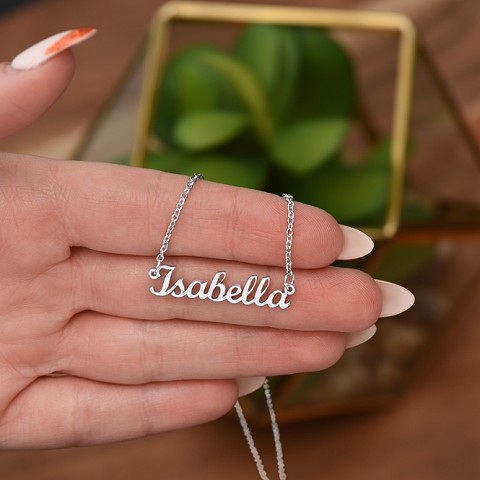 Name Necklace details
For the following products, there is a limitation of 10 characters with no emojis. Names are cut exactly as they are typed, complete with capitalization. So ensure capital letters are in the correct places.
Signature Name Necklace

Heart Name Necklace
Vertical Name Necklace
Custom Name Necklace
Engraving Fonts and character limits
We use one of 3 fonts for the text, depending on the product. You can preview them here:
Basic emoji, such as hearts, are supported. Text is scaled down the more characters are used. On 2-line products, the size is scaled by the longest line. The more equal length the 2 lines are, the better.
Heart, Circle, Dog Tag pendants, keychains:

2 lines, (20 chars/line). Uses

Tangerine

font

Graphic cross:

front (2 chars), back (20 chars). Back uses

Tangerine

font.

Artisan cross:

1 line on back (20 chars). Uses

Tangerine

font.

Horizontal Bar:

1 line, (20 chars). Uses

Tangerine

font

Vertical Stick:

2 or 4 sides (20 chars/line). Uses

Courgette

font

Birthstone name necklace:

1 line, (16 chars). Uses

Courgette

font.

Buyer Personalized watch:

2 lines, (20 chars/line). Uses

Roboto

font.

Sweetest Hearts:

1-3 hearts, (1 char/heart). First heart must always have a character. Only supports heart emoji. Stamped item,

no font

.

Baby Feed Pendant: 1 line, 10 characters only.
Language support
We support the following languages:
English (latin characters)

Many latin-based fonts with accents (French, Spanish etc)

Japanese and Chinese (most characters)
Buyer Personalized Watches do not support accents or other languages at this time.
Cost
The cost of the engraving is displayed in the variants list while you're editing a product in the ShineOn app/platform. It's usually around $5.
Certain products where Engraving is required (such as Vertical Stick or Artisan cross) the cost of engraving is included in the base cost.
Managing Orders
When a customer order contains an engraved variant, the engraving text must be entered to proceed with the order.
If the customer no longer wants any text to be engraved, you'll need to resubmit the order to us for the non-engraved variant.
If your order has engraved text entered but the order is on hold, it could be for the following reasons:
Unsupported language

Unsupported emoji

Engraving text exceeds the character limit

First heart is blank (Sweetest Hearts necklace)
Resolving the above issues will allow the order to proceed.